Hi, i am sandy from ukiah, and i can't tell you how excited and honored i am that Liz has asked me to be one of her Guest Designers while she is recovering from her shoulder surgery. i wasn't too nervous till i looked at the list of talented ladies that will be filling in for Liz the next few weeks. The first two weeks after her recovery will be pretty painful, so i hope you will join me in praying for Liz.
Ok i am taking a DEEP breath, here i go:
i am going to be sharing a card that i made for Brent's 25th birthday. i designed it on my gypsy, i hardly ever make anything without using my gypsy... even when i scraplift from all you talented designers out there. BUT i actually did design this all on my own, but it was pretty simple. Brent is a golfer and this was just perfect for him. i decided to make a shape card: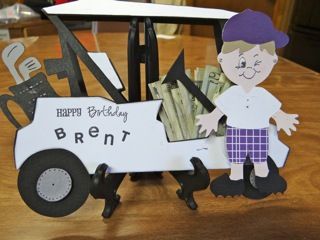 card recipe:
i cut two of the golf carts out of black cardstock at 7.89" x 11.26" using the All Sports cartridge(click on the icon button to find the golf cart) and welded them together at the top.
then i did the layers in white
i cut the hub caps out in silver and did a little faxing in the middle of them.
You can't have a golf cart with out a set of golf cubs so i cut out 2 golf bags at 1.88" x 4.50"
from the Paper Dolls for Everyday (using the Shift Accessories 1), i cut off the clubs from one bag and then glued both pieces together and faxed a little on the bag and the clubs.
then i put the golf bag in the back of the golf cart with a wobble
And of course you have to have a little guy with the golf cart, so i used Paper Dolls again to make the little guy and his clothes. i made my little guy 3.22" x 4.50"
Brent likes purple so i made his hat purple and his pants out of a checkered purple to match his hat.. Brent likes everything to match. i used stickles for the buttons (there's those little extra details) and gave him black shoes.
if you look closely you will see i put some little gems in his ears for his ear rings... (he wanted to pierce his ears when he was 16 and i said "ABSOLUTELY NOT", well i think when he was about 22, Everett said he could.. ) and of course i used the PK - 490 Everday character face assortment for his little face.. Miss Emma's showed me how to add the little white to their eyes at one of her classes. Now Brent is ready to be put on the golf cart, i attached him with a wobble...
then i added Happy Birthday from Miss Emma's Many Greeting Stamp set and Brent was a stamp set from Close to my heart. AND the finally step was using Tim Holtz little stapler to attach the $50.00 inside the golf card.
I hope you enjoyed Brent's birthday card as much as he enjoyed getting the $50.00.. and i hope that i have inspired you in some small way to be creative.
Also, Liz has some exciting news to share with you, but not quite yet. However, in the meantime, while she's recovering, she is reading every comment! Not only is she reading them, she's counting them, because at the end of all this, she will have two announcements! The first will be a winner of some exciting BLOG CANDY! The second, it's a big one...and no, she's not coming out with stamps...you just have to wait and see!
Thanks Sandy for your FABULOUS card and help during my recovery!

Enjoy!